Files by Google- Replacement App for Xender and Clean Master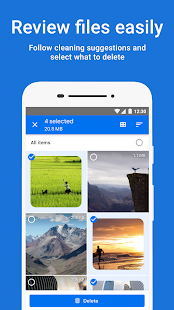 Space management is something that we all try to do in our smartphones. Managing storage space in smartphones is something that is very difficult to do. With smartphones also acting like cameras users of smartphones tend to take a lot of high resolution pictures and videos.
A 10 min video can be more than a gb if the camera quality is good. This can lead to phone storage quickly getting low. Cloud storage is something that has tried to resolve this issue by letting users share their data online. Files by Google does this exact same thing.
Files by Google is a file management app that allows you to free up more space in your smartphone. With Files the user can find files in no time. The advance search option allows users to search through files seamlessly. Users can also share files online with others using the cloud platform, you just need to share the link to that file and the others can download it. Some transfer is happening. Users can back up all sorts of files to the cloud. Users can also choose to share files offline with others using this app. The app uses Wifi direct to transfer any sort of files between users.
Some of the main features of the app are :
Manage your space – Files will display all the uncessary junk files that can be deleted. With one tap users can clean all the junk files n their smartphones.
Get recommendations – the app makes suggestions of files to erase before that will free up your phone space. The recommendations from Files app get smarter the more you use it.
Find your files- The user can find particular files in no time. The app uses filters to makes your search experience frictionless and quick.
Manage your files – Search for your files or simply navigate to them through categories and filters. View, delete, move, rename or share any files. Sort them by file size to understand what's taking space. The filters allow you to group and sort the useful and useless data in your phone.
Encrypted file sharing – Files's offline file sharing is secured with WPA2 encryption, providing a more secure file transfer. Files app uses Bluetooth to set up encrypted and direct fast wifi connection, so that you can transfer app APK or large files in seconds, send videos or pictures to your friends. Safe and secure.