Adobe Scan- Replacement for Cam Scanner Application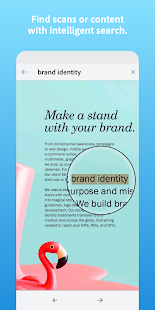 Optical character recognition or optical character reader (OCR) is the digital or mechanical translation of typed, handwritten or printed text images into machine-encoded text, whether from a scanned document, a document photograph, a scene photograph (such as a text on signs and billboards in a landscape photograph) or a subtitle text superimposed on a frame. This is usually a difficult task as most of such images can be very difficult to read even.
Most applications that boast this feature have very low accuracy when it comes to actually converting the image or pdf to text. Text Scanner [OCR] is an app that recognizes the characters and words from an image/PDF with incredible 99%accuracy. It converts your smart phone to text scanner and translator.
Adobe Scan is a free document scanning app with integrated OCR technology to instantly recognize printed text and handwriting. You can use this app to scan anything and convert it to adobe pdf. You can scan anything from receipts, notes, documents, photos, business cards, to whiteboards and convert them to PDF in a matter of seconds. Some of the main features of the app are:
Scan all documents. – Scan anything with high precision with the mobile PDF scanner. Advanced image technology automatically detects your documents for borders, sharpens scanned content, and recognizes text. If you are trying to share documents like degree certificate and transcripts this is extremely useful as it captures everything with great accuracy.
Makes the scans clear – Touch up photo scans and documents from your camera roll. Whether it's a PDF or photo, you can preview, reorder, crop, rotate, and adjust color. The editing tool makes the usage if the app much more enjoyable.
Accurate OCR. – Turn your photo scan into a high-quality Adobe PDF document that unlocks content through automated text recognition (OCR). You can reuse content after scanning PDF documents thanks to OCR. You can use this to digitize books quickly.
Get more done on the go – Save each PDF scan to Adobe Document Cloud for instant access and sharing. Even lengthy legal documents become manageable and scannable with the Adobe Scan scanning app, which lets you search, select, and copy text. You can also open a PDF scan in Acrobat Reader to highlight key sections and add comments to your documents.
This is an amazing app to have if you are a working professional or a student.