Video To Photo Converter- An App to Convert Videos into Images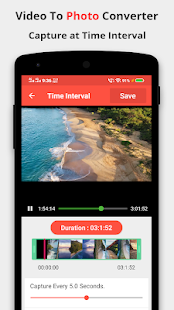 Videos are something that we take almost on a daily basis nowadays. With smartphone storage size going up and better cameras being installed it is difficult not to take videos nowadays. With some many interesting things going on in the world people are taking videos more than pictures nowadays. Many people have completely shifted to taking videos rather than taking pictures nowadays because it's easier and you don't have to worry about a lot of things like exposure and lighting when you take videos. Now what if you want to capture some epic moments within a video that you have captured Video to Photo converter has your back covered.
Video to Photo converter application is a tool that will allow you to convert a video to an image format without any hassle. If you want to make an interesting snapshot from your video or if you want to convert your home videos into a memorable photo album by extracting JPG frames without going through a lot of trouble, this is the app to help with such work. Extracting pictures from a video is not such a difficult thing and Video to Photo app is perfect moments from videos in simple steps.
The Video To Photo Converter app supports all popular video formats that can be added to the software for conversion. You can even merge multiple videos and edit them if needed before the conversion takes place. The program is extremely fast to use and allows you to set the number of frames you need.
Some of the amazing features of the Video To Photo Converter app are:
1 . Instant Auto Capture (Time Intervals) photo of specific moments while video is playing – While playing videos on offline or online mode in this application, at any instant or point of time through the video streaming, you capture the specific photos at that particular frame of the video.
2. Very Fast Video to Photo converter speed – The Video to Photo app provides high conversion speed while you try to convert or extract images from the video with no loss in the end result quality.
3. Save your Video to Photo converter files in SD card Folder – The converted images get saved and you can choose to save them to your SD card.
4. Video to photo Converter app works in two types: 1. Time Intervals and 2. Time Capture Photos.