Just4Laugh | Voice Changer App – An App to Prank Others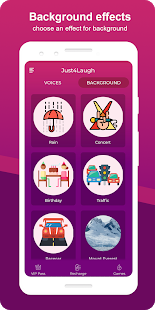 Just 4 Laugh is a proud made in India application. Users of the app are bound to experience a new and fun way in experiencing calling with this fun voice changer app that changes your voice in real time while on call with your friends, relatives or anyone. The app provides its users with various voice options like Male, Female and Don. You can also switch to a different voice between the calls and also test your voice before starting a call.
Just 4 Laugh provides a new and fun experience like never before where the users can prank others and create new memories and exciting conversations. You can save your recordings and share the fun on various platforms.
To keep their users entertained, Just 4 Laugh also provides various exciting games to keep them engaged. First time users will receive free credits through which they can choose between arrays of voice options along with different background music.
Just 4 Laugh comes with a lot of unique, some of which includes-
Voice Recorder: Easily record any voice at whatever point and at every possible opportunity.
Always keeps your calls fresh and exciting. You can use this app to prank your friends and families and record their reactions. This is great fun to entertain and stand out.
Voice Changer: Choose between different voice options, prank your friends and family using this amazing feature
Background Music: Variety of fascinating background scenes as per your choice. You can use raining noise, happy birthday background, and traffic noise and music concert background while talking to friends on call.
Messenger Voice Changer: Funny changing voice can be sent to your companions.
Record & Share: You can record your content and share them
Easy to use: Just call and your voice gets changed as soon as you connect to a call.
Users can also purchase in-app products like different voices, background music to add more fun and other exciting music to their calls. You can prank your family, friends or relatives and confuse them by using this application and share your recordings which are recorded in high quality and can be saved as mp3 or in wav format on the go.