WhatsTool- A Toolkit App for WhatsApp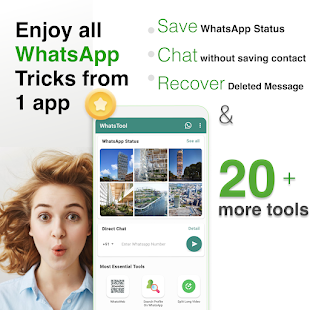 One of the primary features of the phone is its ability to let its users communicate with one another. With time the ways in which users communicate have gradually changed. People are now in an era where they use images and videos to get their message through to others. Many applications have tried to fulfil this need but none have come close to the standards set by WhatsApp. WhatsApp is a simple messenger that allows its users to communicate in any and all ways. This is in no way exaggerated, WhatsApp literally allows its users to communicate among each other in every perceivable way, feel like sending a GIF or an audio file to cheer someone up? WhatsApp has your back. WhatsApp has made sending multimedia files simple and fast, users can send whatever they want with ease and for free. As you know our WhatsApp's have become pretty clunky and full of message. Im sure most of us are in various groups and have hundreds of contacts in WhatsApp this makes managing all of this a very hectic job. Whatstool is the perfect solution for this. WhatsApp users can have a much better experience with the already famous WhatsApp messenger. Some of the key features of the app are: –
1. Status saver for WhatsApp – Statuses are deleted after 24 hours in whatsapp. With this you can save your favourite statuses and view them whenever and wherever you want.
2. Direct chat with unsaved number- This feature enables users to message on WhatsApp to a new number, search profile in WhatsApp and check the details
3. Search profile in WhatsApp – You can search for user profiles if you have the number with you.
4. Recover deleted whatsApp message – Get notified of deleted messages in WhatsApp chat & recover them with the help of WhatsTool.
5. Whats Web- scan QR code to use multiple account,
6. Chat style for WhatsApp,
7. Video splitter for WhatsApp status – This inbuilt tool from this app lets users split long videos to the WhatsApp status video time limit provided and post long videos in multiple status.
Apart from the above features there are tons of other features available in the app. This app makes WhatsApp a lot better and will improve the user experience of the individual. It is very pleasant to look at and is very easy to use. This is a must have if you are an avid WhatsApp user.