WAMR – App to Recover deleted messages & to download status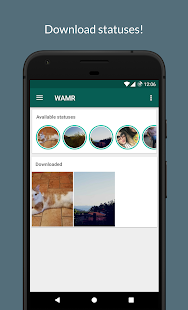 The Whatsapp status feature is something that is relatively new to Whatsapp. The feature basically acts like a snapchat story. The status will remain up and public for your whatsapp contacts to see for 24 hours. Then it deletes itself lit it was never there. So it's never really saved. If you are lucky then you can see the status. There is also a feature in WhatsApp that lets you delete messages, videos, pictures and audio clips that you have sent. This can often be very useful for the person using this feature. The people in the receiving end of these messages experience pure frustration. Most times people don't even open WhatsApp unless there is a bulk of messages to read and then to see that most of them are deleted is a total fail.
WAMR is an app that lets you recover such deleted messages and status. The app auto-detects the messages that are deleted and saves them. With this app, you can view and save deleted photos messages. When a message comes in Whatsapp the app stores the message in the phone's internal storage. This way the message is locked. You will have to give certain permission to the app in order for this to work but it is completely safe as the app does not access any of your personal information. WAMR will also try to save any media attached to the message and if the sender deletes it, you will receive a notification. The following media types can be recovered: pictures, videos, animated gifs, audio, voice notes, documents, stickers. With WAMR you can also download Statuses.
This app is great for people who can't be around their phones for a long time. If you are working then you might now be able to see your Whatsapp messages all the time. With this app the deleted messages can be easily recovered when you are home and free. This way you won't have to miss out on the group drama. You can also view and save statuses that you find interesting and save worthy. This app is very easy to use and works like a charm. The simple to use user interface add to the beauty of the app. This is a must have for anyone using Whatsapp.