SuperBeam- An App to Share Files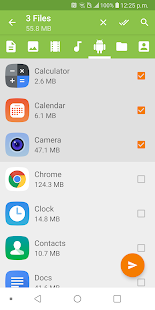 SuperBeam is a file sharing app that allows you to quickly and effortlessly transfer files between two devices. It is the easiest, fastest and most secure way to share large files between your devices using Wi-Fi direct. It allows you to share any kind of file with another device using Wi-Fi or Wi-Fi Direct, functioning in much the same way as Bluetooth sharing. You can also send files from within applications using the 'Share' button. Devices can be paired using QR codes (with the included QR code scanner), NFC or manual sharing key. It makes sharing files (and entire folders) between Android devices a breeze. It uses Wi-Fi direct technology or whatever Wi-Fi connection available to transmit data at very high speeds. With this application, you do not have to memorize passwords or search for other devices.
To share a file with another person using SuperBeam you would just need to select the file and the app will generate a QR code. The other person simply scans this QR code and, assuming you are connected to the same Wi-Fi network, the file will be transferred. You can bypass the QR code option and transfer the files via NFC, if your device supports it.
Under the settings menu, you can even change how the app looks. There are options for a light theme, a dark theme, and an AMOLED theme that helps devices with AMOLED displays conserve battery by making the background completely black.
Some of the application's features are: blazing fast transfer speeds using Wi-Fi direct, pair devices using NFC or QR code scanning, sharing with devices that do not have SuperBeam through web interface, share single or multiple files of any type (photos, videos, zip files, APK's, contacts and many more), keep history of all transfer operations, modern material design user interface, with simplified send/receive screens (which can be merged under user interface settings) and light, dark and AMOLED color themes.
All the received files are stored under "/sdcard/SuperBeam" directory by default, this can be changed in settings (PRO). For the duplicate files, the SuperBeam application will automatically add unique numbers to duplicate file names. The SuperBeam application switches to hotspot mode automatically for devices that don't support Wi-Fi direct. Also, it can use existing Wi-Fi network connection between devices in case Wi-Fi direct fails. You can choose to upgrade to SuperBeam PRO and get much more awesome features