Smash- App for File transfer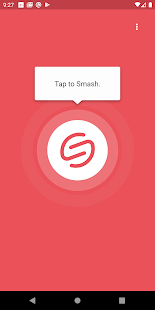 Transfer of data between devices is something that is a key for mobile phones. Things like Bluetooth and Wi-Fi-direct are some of the pre-existing features that are available in smartphones. These features are often unreliable and slow. Users also have to compromise on the size when it comes to transferring data from one device to another while using Bluetooth and Wi-Fi direct. This is pretty unacceptable since nowadays almost all of the major apps and videos are more than a GB size. Another issue is that most of the file sharing apps in the market is heavily monetized. There will be hundreds of pop ups for ad on every click and it can get extremely frustrating to operate.
Smash: File transfer solves all these problems. Smash: File transfer is an ultra-fast file sharing application that is free in Google play store. Smash: File transfer allows cross platform file transfers at epic speeds. Smash: File transfer is aesthetically beautiful and simple to use.
Features
• No registration. There aren't any hidden fees and you can share you files without any worry in the world
• No file size limits. This is one of the major features that sets Smash aside from the rest of its competitors. With its dedicated serves and no size limits users can transfer files in remarkable speeds.
• No compression of your files. HD videos and photos will not get compressed. You can get the full clarity and contrast of your high definition pictures even after transferring it across multiple devices using smash,
• Files available for 7 days. The temporary storage space that the app offers is really useful of keeping files.
• Files stored in France (soon close to you: e.g. in US for Americans, in UK for English…)
• Data encrypted in transit and at rest
• Without advertising guaranteed service. You will not be bomparded with ads every 2 seconds.
• All made by 100% certifies French brains
•Smash: File transfer transfers everything- With Smash: File transfer users can share almost everything in their phones. Smash: File transfer allows users to transfer Music, videos, installed apps and any other files with ease.
Smash: File transfer is affiliated with Thousands of companies (Universal Music, Disney, NASA, Starbucks, BBC, Warner Bros…). Professionals and individuals already transfer their files easily and securely thanks to Smash. Smash: File transfer is undoubtedly the best file sharing app available in the online app market. No one has yet to challenge its top rankings and the users of this app are highly satisfied.