Cleaner for WhatsApp – An App to Clean Unwanted WhatsApp Files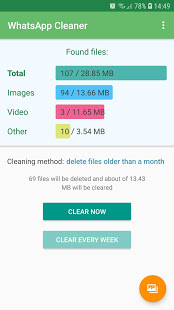 People are now in an era where they use images and videos to get their message through to others. Many applications have tried to fulfil this need but none have come close to the standards set by WhatsApp. WhatsApp is a simple messenger that allows its users to communicate in any and all ways. This is in no way exaggerated WhatsApp literally allows its users to communicate among each other in every perceivable way, feel like sending a GIF or an audio file to cheer someone up? WhatsApp has your back. WhatsApp has made sending multimedia files simple and fast, users can send whatever they want with ease and for free.
With people using whatsapp for years and years the app itself can take up a huge chunk of your mobile phone's storage space. Especially if you have turned on auto download feature. This will make anything and everything that your contacts share in any group or with yourself gets downloaded in your phone. If you don't keep a close eye on this feature your phone can get completely filled up with whatsapp files. Whatsapp itself doesn't really provide a good solution to delete all the temporary files that gets stored in your phone without your knowledge. This can even lead to your phone hanging and not responding properly despite having good RAM. Cleaner for WhatsApp is the perfect solution for this problem.
This is a smart little app that helps you solve all Whastapp storage issues. With this app you can find old media files and completely delete them to create space in your phone. With a tap of a button this app automatically detects all the old temporary files that are useless. You can then delete them according to your wish. Some of the great features of the app are
• Delete all files found
• Delete files downloaded more than a week ago
• Delete files downloaded more than a month ago
• Delete files downloaded more than 3 months ago
• Delete files larger than 100Kb
• Delete files larger than 1 MB
Often times we face the issue where we don't have the space to install a new app or download a new update. With this app in few swipes you can free up a whole lot of space for that new update.