PICNIC – An App for Photography & Photo Editing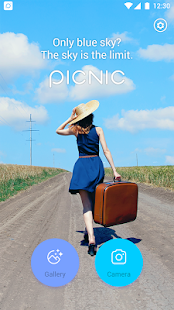 The ability to capture and edit pictures is a common feature in all smartphone. Many developers of the latest smart phones don't give much importance to the photo editing or the in-built camera application within the smartphone. The ability to tinker with and have complete freedom over your device is what most smart phone users look for when buying a mobile. In today's world having an online presence is something that is very important to uphold a status in the society. With the ever increasing penetration of social media and websites like Instagram and Facebook there is a need for people to show themselves in a presentable manner that is unique to their personality. This is where PICNIC – photo filter for dark sky, travel apps comes into play.
This beautifully made app makes clicking pictures more enjoyable. The differentiation point of this app is its ability to seamlessly change the entire mood of the pictures with its filters. Users can choose from tons of unique filters that completely change the atmosphere of the picture. With its high customization and editing features this app is surprisingly simple to use. You will feel right at home minutes after using the app. Its ease of use is yet another factor that seperates this app from the rest. PICNIC's various photo filter gives the sky a colorful cloud and background. This way of editing can turn dull darks days into colourful wonderful pictures. PICNIC allows you to instantly share your beautiful creations with the rest of the world in seconds.
Users can instantly share their pictures on various social media sites with just a swipe. The app adds excellent effects in a realistic and stylish way, while not making the image look like a cartoon or something out of this world. The app will completely convert your pictures into something that looks out of a magazine. PICNIC specializes in taking landscape pictures. This is where it really shines. You can capture breath taking pictures with the highest level of quality using this app. With its ease of use and the beautiful UI this app is a must have if you like taking pictures. You can definitely advance your online social game with this app.