PickU – An App for Photo Editing & Background Erasing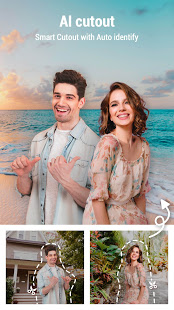 These days most phones have capabilities to capture and edit pictures seamlessly. Many developers of the latest smart phones don't give much importance to the editing part if taking photos. SO nowadays we can have an amazing phone camera with very subpar inbuilt editing software. The ability to tinker with and have complete freedom over your device is what most smart phone users look for when buying a mobile. In this day and age our mobile phones serve as high definition cameras and are widely used as an alternative for a professional camera. With the ever-increasing penetration of social media and websites like Instagram there is a booming market for content creation and advertising through social media. Nowadays it's not really necessary to have expensive recording and editing devices to create quality images. PickU – Cutout Photo Editor & Background Eraser is an all in one app that helps you with anything and everything to do with photo editing.
PickU is a photo editing application that is very easy to use and is completely free. PickU comes with a wide variety of features that are easy to use and make photo editing fun and entertaining. PickU gives its users complete freedom of editing enabling its users to do whatever they want with their pictures. Some key and interesting features of PickU are
Remove background and change background so easily. Just select and erase objects which you want to remove accurately. PickU provides hundreds of Emoji background, Nature background, Frame background, Border background, etc.
Professional photo editing tool, like Blur, DSLR, Crop, Rotate, Portrait Beauty Effects. Create the best blur effect, such as DSLR Camera. DSLR Camera Blur Effects is a perfect combination of portrait and beauty effects. You can use it for Focus Photo, Blur Background, Blur Pictures, etc.
PickU offers 200+ stylish story templates, like picture story and video animated story, to help you create beautiful collage layouts and amazing story. Different themes for choice, including Film, Travel, Vintage, Minimalism, Food, Travel, Love, Holidays, etc.
High-quality filters for selfies, portrait, nature photo, food, landscapes, or any occasion. Adjust brightness, contrast, saturation, hue, warmth, etc.
This is an amazing app to have in your phone. With its frictionless functionality and ease of use you will have a great time editing pictures with this app.