Oops! AppLock- An App to Hide your Data Securely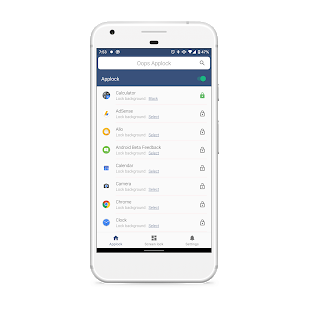 Almost all phones don't have any way to protect your apps after the phone itself is unlocked. Anything that you have stored in your phone can fall into the wrong hand, who can use this information to do massive damage to you, your career and reputation. Using the Oops! AppLock application will help keep your data stored away in a hidden manner and prove to be beneficial if your data gets lost or some mishap occurs.
In your phone, you would have a lot of sensitive information in the applications installed on your phone or tablet device. Most often than not, the applications that store pictures, personal and financial information, or control remote access to your home do not provide or request for a security PIN, password or lock screen pattern to open. Oops! AppLock allows you to lock your phone applications and protect your privacy. Now you might be thinking that there are a lot of other apps that do this exact job. What separates Oops! AppLock from other apps are it doesn't use any on screen password ie. pin based or a pattern-based locking system. Oops! AppLock uses the volume key pattern as the password. You can make any pattern using volume keys, like UP UP DOWN UP DOWN UP. This unique way of locking will leave everyone who handles your phone confused. First of all they won't even realize that the app is locked by some external app. They will probably assume that it is a feature that comes with the phone. Oops Applock is completely invisible. Some of the great features of the phone are.
– Oops Applock ScreenLock is safest screenlock.
– Using Oops Applock ScreenLock nobody can unlock your phone.
– Using Oops Applock ScreenLock nobody even notice phone is locked.
– Oops Applock ScreenLock has different styles to choose.
– Oops Applock is Most secure way to lock apps.
– Nobody even notice your app is locked with Oops Applock.
– Oops Applock is Simple.
– Oops Applock is Fun to use.
– Oops Applock can lock any applications.
– You can set different background for lock screen on every locked App with Oops Applock.
– Transparent and Black background makes as if your application is stuck.
– Fool friends with custom backgrounds using Oops Applock.
This is an amazing app to use and it completely secures your phone. With its frictionless functionality and easy to use interface it is a must have for anyone with a smartphone.