Music player EDGE – A Music Player App for Music Lovers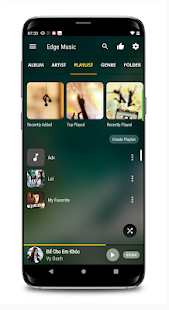 The ability to play music is one of the key features in mobile phones since its inception in the early 2000's. A smartphone without the ability to play music is not really a smartphone. It is a feature that is essential and always expected in every smartphone that is released. A lot of times smartphones don't give much emphasis on creating a visually appealing and easy to use music player on their devices. This is often overlooked and ignored. The end results may be some unpleasant glitchy music player with minimal features.
Music player EDGE is one of the best of not the best music player available for android devices. The developer of this application has captured the core needs that are necessary for a good music player and has created this beautiful masterpiece of an application. Music player EDGE is a visually stunning music player that boasts a number of features that will give other music players a run for their money. The thing that makes Music player EDGE unique is its edge display. The app will create a minimized customizable screen at the edge of your mobile screen. Honestly it look much better than traditional players. The unique edge music player gives renewed aesthetics to the app and ismuch easier to operate than traditional designs. Some of the main features of the app are
EDGE Control button: You can change position, width, height, color, opacity of the edge player.
EDGE player themes: Users can choose from many unique and beautiful themes. You will definitely find the perfect theme for you.
Create, edit and delete the playlist.
Play songs in shuffle, repeat, loop & order
Songs are also displayed based on genre, artist, and album.
Download artist and album images from the last fm at edit_tag.
Ringtone cutter: Cut, Trim your music and set them as your ringtones.
Record audio and set them as your ringtones.
User can control high-quality equalizer with a lot of preset.
Genius Drag to Sort Playlist & Play Queue
Share songs easily
Folder support – Play song by folder
Use sleep timer and set the time when you need your music playback to stop automatically.
This is overall a great little app that you can get for your phone. It is much better than the default phone music player in terms of customizability and aesthetics.