Medisafe- Pill Reminder & Medication Tracker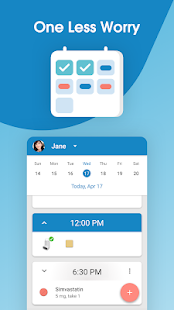 The human life is very short considering whole expanse of the universe. We live short meaningful lives to make the world a better place. We might face a lot of adversities along the way. Some of them might seriously weaken your body and mind. Thankfully in this day and age we have the cure to almost everything. Small term and big term diseases that used to kill us by millions can easily be controlled by a small injection or taking some pills. In today's world almost everyone is affected by some sort of affliction that has a negative impact on life. As we get older these diseases keep increasing and the care that we need to our body increases significantly. Many of us are forced to eat medication to battle the various afflictions that plague our society today. Nowadays anti-depressant and anxiety pill are also being mass produced as people are starting to realise the seriousness of mental illness. With so many pills to take it can be difficult for a normal person to keep track of everything. This is there Pill reminder and medication tracker comes into play.
Pill Reminder & Medication Tracker is a pretty simple application that gives you alerts and notification on when to take your next pill. The app does so much more than just reminds you though. This is one of the best ways to ensure that you are sticking to the medicine plan. The app has been given thumbs-up from millions of pharmacists, physicians and patients all over the world. Some of the great features of the app are
Pill reminder and alarm for all medication needs – as the name suggest this is the primary objective of this app. It'll give you custom notifications and alerts whenever it's time for you to take a particular pill.
Drug-to-drug interaction checker
Family and caregiver support via "Medfriend" functionality
Medicine tracker
Refill reminders
Dr appointment manager and calendar
Support for complex dose schedules
Add "as needed" medications, vitamins and supplements
Full selection of OTC and RX medications
Daily, weekly & monthly med reporting with logbook to share with your doctor
Track health measurements for various medical conditions (diabetes, hypertension, cancer, anxiety, depression, HIV, multiple sclerosis, MS, Crohn's, lymphoma, myeloma and leukemia) e.g. weight, blood pressure, blood sugar levels
These are some of the basic features. The app comes with so much more. This is a must have app for anyone who is taking pills on a daily basis or if you have any loved one who is doing the same.