Cookpad – App to Create your own Recipes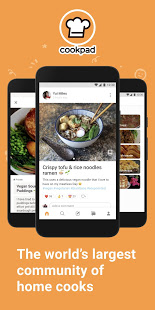 Food is something that we all love and worship. Without it we will all die. But food has become more than just a part of our daily sustenance. The food industry all over the world has transformed and flipped multiple times. With it the taste of the user has also changed dramatically over the years. People are getting more and more creative with what they eat and they are starting to put the quality of it above quantity these days. This has given rise to new ways of cooking and preparing meals. People are constantly looking for new recipes to satisfy their pallet. This has led to the rise in unconventional cooking methods and dishes. These methods are often difficult and cooking as you all know can be a lonely and tiresome job. This is where cookpad comes into save the day.
Cookpad is one of the largest recipes sharing space that allows it users to discover new cooking techniques and also share the cooking techniques that they know. It's a share and receive platform that assist you in cooking from ground up. You managed to create a magnificent chicken meal, great share it in cookpad so that other can learn too. In cookpad users choose from over 3 million recipes to find the best meal for that evening. Some of the great features of cook pad are
– Share and expand your unique recipes with other cookpad users.
– Cookpad updates itself daily with top notch and unique recipes so that you never get bored.
– Plan what you are going to cook next with a daily meal planner. This allows you to stick to routine and measure your calorie intake. This is very useful if you are looking to build muscle and going to the gym. As the intake of gym goers are rather specific.
– You can track all the recipes that you have already tried out so that you remember all the good times,
– Keep track of changes you make each time you cook with cooking logs. On each recipe – see who is cooking your recipe in real-time and follow the cooking conversation from the community and see any changes they make.
– Search recipes by food title or multiple ingredients.
The app is has very smooth user interface with zero input lag. It's very easy to use and you will feel right at home after few uses. The app is also absolutely free and a great addition to your Smartphone.