VSCO- Android App to Edit Pictures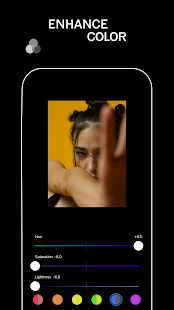 The app allows you to shoot and edit pictures with the presets that are available to you and the applications advanced camera controls.
The application has an online community of creatives, you have the option to share the content that you create and also to view others user´s work within the platform.
Pros Of The Application
The app allows you to edit and shoot your images by offering you superior quality mobile presets, film-inspired presets.
The app also offers you advanced camera settings and controls.
You are able to share your work with other users on this app's online community by either publishing it or curating others to your VSCO profile.
You are able to share your profile with friends or find your friends on the app, the app also makes it possible to connect with users from all over the world.
The app offers a yearly VSCO Membership option which includes more than 100 classic mobile presets from VSCO. With this membership users will also get exclusive new Film X™ presets and tools and new additions added every month plus new film stocks such as 'Kodak Portra 160 (KP1)'; 'Kodak Portra 400 (KP4)'; 'Kodak Portra 800 (KP8)'; 'Kodak Ektar 100 (KE1)'; 'Kodak Gold 200 (KG2)'; 'Ilford HP5 (IH5)'; 'Fuji Pro 400H (FP4)'; Fuji Superior 400 (FS4)'; 'Fuji Neopan 1600 (FN16);'Fuji Pro 600Z (FP8) and many more.
App provides multiple exclusive and new filters and tools as well, that are available as part of in-app purchase.
You can export and store your creations onto your mobile device's gallery.
The application is a platform where no comments, likes or followers are publicly displayed. It is an app that allows you to just share and re-share images as well as edits onto your profile where other creators on the VSCO community can visualize, like and reshare it onto their own profiles. This allows users to be able to find similar content or users that match their own profile as well.
Download Application From Here
Features
The application presents you tools which you can use to edit your images. The app also includes a camera which you can utilize to take pictures with the advanced settings and controls.You can share your work on your profile where other creatives in the VSCO community can visualize your work and also share theirs.
The app offers multiples free filters and tools, as well as in-app exclusive filters, film presets and tools available for purchase.The application has a VSCO membership option where new and exclusive tools, filters, film presets will be available for use.