Camera360- Android App for taking Pictures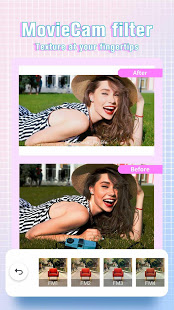 Camera 360: Selfie Photo Editors is very easy to use and has a compact and efficient home interface. Launch the camera and choose front or selfie cam. Select a filter of your choice from more than 100 filter options. Adjust the brightness level and intensity of filter as per your desire and click amazing photos to feel like a professional photographer. Later edit your pictures using cool filters and funny 3D stickers. You can also record entertaining videos using real-time filters and motion sticker options.
Pros of the application
The latest interface of the home page will give you a concise and comfortable visual experience. Through the last update, the launch time of the camera has been reduced to 30%.
Collect your memories of great moments with the additional feature of Photo Collage and Photo Grid provided in Camera 360.
The app was last updated on March 8, 2019, and it is regularly updated with the latest features to improve your experience as a user.
Make your photographs and videos way more fun with the free 3D funny stickers, art filters, and poster templates. Add the element of entertainment to your photographs and get a lot of likes on your pictures.
Camera 360 App comes with motion stickers and filters for you to make a fun video while on the go.
This fun camera app is loaded with features for all the challenges to make you popular on the social media profiles. Gain 100s of likes and thousands of followers with amazing and fun features of this app.
Real-time makeup beauty camera can enlarge eyes, whiten teeth, slimmer nose, and reduce blemish, smaller face and lets you add attractive lip colours. Turn yourself instantly to the glamorous diva with the instant beauty and makeup camera filters.
Over 100 fantastic fun photo filters to give a creative professional finish to your pictures. All the amazing and exquisite filters include Magic Skin/Sky/Colour, Storm, Starry Night, Film, Mirror, Double Exposure, HDR, B&W, Bokeh, Sketch and many more.
Enjoy a global community of 800 million users.
Download Application From Here
Features
Camera 360: Selfie Photo Editors gives you a professional feel with real-time makeup and beauty filter and fun photo editing options. Quick edit options for making your pictures look beautiful and pro. There are cool features like 3D stickers and motions stickers for recording nice videos. It has professional editing tools like poster camera for improving your photos and videos. Enjoy a good time and have fun editing the photographs and creating photo collage and Grid.