SplenDO- Best App to organize things in daily life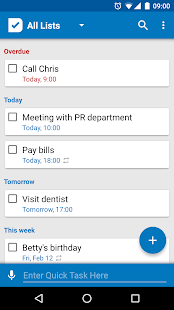 SplenDO is smart task list for everyday use. It is truly usable with great user
experience. No matter what the person does and who the person is it will help him to organize better. The app helps users to focus on real important things in life be it at home, in the office or in the free time. SplenDO is powerful in its simplicity and its convenience to use.
Key features of the app
User friendly task management
Grouping tasks in handy task lists
Smart home screen widgets show instantly what to do
Intelligent notifications exactly when it is needed
Syncing with Google that just works
More details about the app
Adding tasks via voice
Notifications use sounds, vibrations and built-in speech synthesizer (TTS)
Icon widget – icons with optional today's and overdue tasks counter
List widget – resizable widget displays upcoming tasks
Status bar – component (in the notification area) keeping users up to date
Quick task bar – to add something hot quickly
Support for recurring tasks
Batch mode available to add multiple tasks on the go
Support for tasks without a due date, all day long tasks and tasks at specific hour of the day
Bidirectional synchronization with Google tasks
Many useful configuration options
Predefined task lists
Actions on group of tasks (bulk actions, long-click selection support)
Integration with sharing on Android – sharing tasks with other apps and receiving
shared data
Creating tasks from the content of system clipboard
SplenDO is free to download and use