Medisafe- Best Pill Remeinder App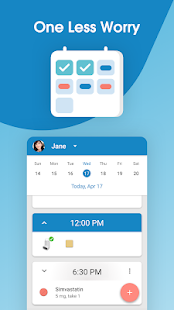 Medisafe is a pill reminder and medication tracker that has been ranked #1 by
pharmacists, physicians and patients. Users of this app takes the control of their
medication management for free. It helps users to stay on track and never miss a
medicine.
Key features of the app
Pill reminder and alarm for all medication needs
Drug to drug interaction checker
Family and caregiver support via "Medfriend" functionality
Medicine tracker
Refill reminders
Doctor appointment manager and calendar
Support for complex dose schedules
Add 'as needed' medications, vitamins and supplements
Full section of OTC and RX medications
Daily, weekly and monthly med reporting with logbook to share with the doctor Track health measurements for various medical conditions (diabetes, hypertension,cancer, anxiety, depression, HIV, multiple sclerosis). Example – weight, blood pressure and blood sugar levels.
Android wear enabled
Customizable reminders and time settings (e.g.: – weekend mode so that users can sleep in)
Automatic time zone detection
Pharmacy discount cards and drugstore coupons
Easy customization of pill reminder notification
Medisafe is a comprehensive tool that compiles all the medical and healthinformation in one place, pill and medicine reminders, drug to drug interactions,refill alerts, doctor appointments and health journal with 20+ trackable healthmeasurements.
Medisafe is free for download and use. Medisafe premium includes unlimitedMedfriends, access to more than 20 health measurements and the choice of a dozen reminder sounds. Premium is offered by a subscription with automatic renewal.