Speaker Boost- Volume Booster App For Android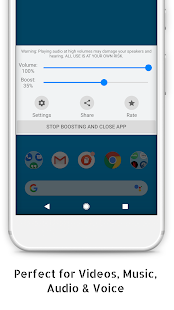 Media plays an integral part of the human leisure in today's life. Especially with the emergence of smartphones, people rely more and more on music and videos for entertainment. People spend most of their free time listening to various music genres, watching movies, TV shows, short movies, etc. on their smartphone devices.
However, this leisurely experience of yours can sometimes be disturbed due to certain issues with the files you are accessing. The audio quality of your file may be too low. This prevents you from understanding the contents properly and enjoying the file on hand. For such situations, Omega Centauri Software has come up with an application called 'Speaker Boost'. As the name suggests, his application very conveniently boosts the sound output of your device's speakers or even your earphones. Thus, any file that has a low volume can be accessed easily and properly with the help of this app.
Pros of the Speaker Boost App
⦁ The app gives a very useful feature to your device.
⦁ You can boost the volume of both audios and videos using the device.
⦁ Accessing some improper media files that have low sound becomes easier with this application.
⦁ The app is very small in size. Thus, you don't need a lot of device space for it.
⦁ It has a minimalistic design with no useless features.
⦁ It is very simple to use.
⦁ Some additional controls are also available in the app.
Function Of Speaker Boost App
The app has a basic design and does not contain any extra features or graphics. This makes it very simple and easy-to-use. Due to such a minimalistic design, users without technical knowledge can also use it properly. For using this app, all you need to do is:
⦁ Install the app from Google Play Store.
⦁ Use the app's volume control function to boost the volume beyond the maximum limit of your device.
This application is very useful and can come handy to a lot of users. However, exposure to such high volumes can damage the ears of the listener. Furthermore, the app also cautions that using it can damage the default speakers of a device. Thus, users should always be cautious about the fact.