Photo Director Photo Editor App-Android Photo Editor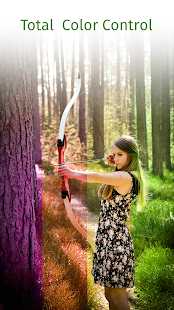 One of the most contenting and satisfying of the art forms is photography. The eye of a good photographer lets you capture the moments around in a way that no one else has witnessed. It is like telling a story through what your eyes have witnessed.Having sophisticated and quality photography equipment definitely helps you work better. However, the costs that you have to bear for them can sometimes be a bit too much.
A simple and way affordable solution to this is having a quality photo editing app. Such an app helps you to enhance the quality of the pictures clicked from your smartphone as well. Photo Director Photo Editor App is one such application which would help you drastically enhance the quality of your pictures and give them a professional outlook.
Pros of the Application
The HSL slider and the RGB settings help you rectify the White Balance errors which your smartphone might have created.
Control the regular setting of brightness, saturation, darkness, exposure, contrast, etc. in the most efficient and professional manner possible.
The camera module of the application allows you to add live effects to your pictures right when you are clicking them.
The app comes with a specialised feature of 'content removal'. This allows you to delete ay unwanted objects from the picture in a very neat and smooth manner.
The same application can be used to create a variety of stunning collages as well.
The app provides specialised options for layered editing. The users can conveniently add HDR effects and other filters to their pictures.
The premium version of the app provides features which are totally worth the value, including unlimited object removal feature, option to save images in ultra HD 4K, etc.
Function
Photo Director Photo Editor App is the ideal app for all those photography enthusiasts who don't own professional photography tools and equipment. This app is all-inclusive which can be used for almost all types of photo editing. Thus, you don't need any other app for photo editing.The only problem with this application is, though it is meant for beginners at photography, its editing options and quite sophisticated and complicated. Such detailed editing can be extremely useful for them, but they need some good time to understand the functioning. However, once they get used to the app, no such problems prevail any longer.
Download Photo Director Photo Editor