KM Player -Android Video Player and Editor App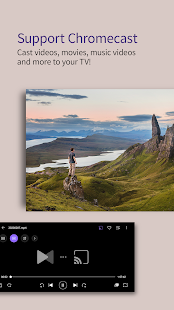 With the advent of the internet and especially of smartphones, phones have become the tool for communication as well as entertainment. There is nothing at all that you cannot do with your phone. Watching movies or TV shows, viewing videos, accessing animations, everything can be done with that simple smartphone device in your pocket.For viewing videos, your device needs a media player.
Though most of the devices come with an inbuilt media player, these players are not apt enough. They provide minimum basic accessibility and control over the playing.KM Player, on the other hand, is an application which allows you to access videos with much better control and much better quality.
Pros of the Application
The app is an all-inclusive application which can be used to view movies, TV shows, downloaded videos, videos recorded on the device, etc.
It also allows access to audio files on the device.
The app allows screening of all videos with enhanced quality.
It lets the user access subtitles of over 30 languages. Thus, you don't need to restrict yourself to view English subtitles.
It also provides the users with complete sync control of these subtitles.
The app provides a unique option of floating screen for multi-tasking. This means that you don't need to pause watching the video when you want to access some other application on the device.
The 'one-finger control' feature of the application makes it highly accessible. With just one finger, the user can command play/stop, brightness control, volume control, etc.
The users can also control the playback speed of the video.
The videos stored on Google Drive can be directly accessed from this application without the need of downloading them.
Function
The app has a simple and functional interface. This allows the users to easily access all the features. However, the USP of this app is the 'floating screen option'. Due to the availability of this feature, the users can benefit from multi-tasking even if their device does not support the same.But there are quite a few bugs and glitches in the app. Due to this reason, many features of the app, though present, aren't completely useful.