Google Opinion Rewards-Android App To Make Money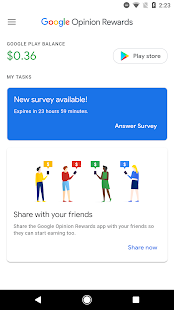 We have entered an era where the prices are soaring high and touching the skies whereas our bank balance is sinking low and even though after doing multiple jobs, we have to compromise on our needs. All we need is an easy way to earn money so we can indulge in our worldly needs from time to time. However, by using all of our money buying clothes and other stuff, we are left with no money to spend on apps. Let's face it, we have to purchase most of the good apps out there and even If an app is free, it will most probably have in-app purchases for us to enjoy the app fully and make use of all the features.
Google Opinion Reward allows you to earn money while being anywhere around the world. All you have to do is answer a couple of questions from a survey and you will earn up to one dollar in Google Play Store credit. The app will send you one or more surveys per week.
Pros of the App
With this app, all you have to do is answer surveys and you will earn Google Play Store credit.
The questions asked by the app are fun, interesting and fairly simple.
It is a fun app to use and the survey questions will not bore you.
With this app, you will not even have to answer a lot of questions per survey. There will be only four to five questions per survey.
It is a reliable app and you will not get scammed
You can earn large amounts of money in the form of Google Play Store credit every month.
Download App From Here
Google Opinion Reward is a simple app that will allow you to earn money without doing any work. It is a fun app that will ask you interesting questions like, 'what is your favorite vacation spot?' or 'which place would you like to travel next?' With this feature, you can earn up to thirty to forty dollars per month in Google Play Store credit. It is definitely worth a try and it will not take much space and time either!