Video Recovery – App to Recover Deleted Videos From Phone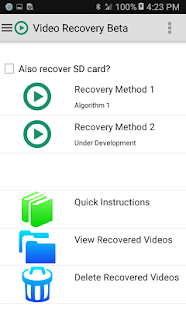 We may all delete videos accidently, it happens to all of us. Suddenly we might need to get it back; maybe you forgot that the deleted video has some important information in it that is vital. You might have n number of reasons to recover a deleted video.
Video Recovery provides users the ability to recover deleted videos from the phone storage. The application helps users in recovering their important videos in case they lost or delete it by mistake. The application requires no root of your android device, provides a neat and clean interface that in return helps the users in a better experience while recovering their deleted videos.
Video Recovery involves one of the leading video reconstruction technologies that have achieved a successful conversion rate.
Some of the unique features of Video Recovery are-
Easy to use interface with a neat and clean UI
No rooting necessary, high quality to undelete file.
Free download, scan and preview.
Find and save video from internal storage, external memory and memory card of phone.
File format: 3GP, MP4, AVI.
Supports devices: All major android devices and more to come soon as the development expands.
Easily recover your videos in a simple click.
Freely video backup available on play store
Strict security and ensures no data loss.
Video Recovery is very easy and simple to use. Just open the application and start the quick scan, once the scan completes the user will be able to view all the deleted videos and hence can recover the videos which the user wants to see.
Video Recovery for android devices is one of the most sophisticated applications that can find deleted videos with ease and accuracy. The application involves a deep scan using one the most sophisticated algorithms and a high success rate in recovering lost or deleted videos. Video Recovery app will scan and discover videos from all your phone storage looking see my videos for deleted videos and list them in an easy manner that will help you to recover and restore all lost files back to your smart phone gallery
This application is currently in beta stage and in the development process and is welcoming all the feedbacks of its users.