SMS Organizer – App to Clean, Reminders, Offers & Backup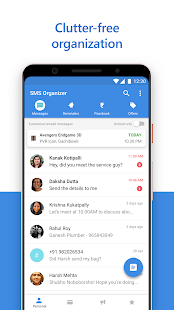 In today's world personal and professional life has become tangled. People have to keep track of both in order to live a balanced and happy life. The professional world nowadays has also put emphasis on personal life. Companies are now looking to balance the professional and personal life of their employees so they can be productive. So organizing the different activities of a person's life has become a priority. But how can a person organize all of his/her thoughts with the constant bombardment of various things going around them. SMS's are something that we all get every day. We all know that the default SMS app that is provided by the phone manufacturer is absolutely bad and cannot be relied on completely. SMS's can range from some offer that your service provider is providing or an important work related SMS from your boss. The important SMS's can get comeplely mixed in with all the useless advertisement SMS's that we get. This can create serious consequences for the users if they happen to miss one important message by their boss. This is where SMS Organizer shines.
With SMS Organizer, users are able to organize their SMS inbox, set reminders and keep track of all their expense. None of the data is exported or transferred to any cloud or online platform so you will have maximum security as all the activity is taking place in your phone. With this app you will never miss anything important. Some of the amazing features if the app are :-
Live train schedules – this new feature allows users to get a live status on the train schedules for that date or some future day. This works even without internet as it tracks the GPS. Users can also share your current train location with friends & family to keep them informed.
Offers from your SMS – Users can use this feature while theur are shopping in anyonline market place. All the offers from SMS's related to the products that you are interested in buying is shown in a neat and organized manner. If you don't find what you're looking for, you can see offers from the web too.
Passbook of all your expenses
Automatic reminders
Smart assist for tasks
Type with voice
Forward bills to any contact
With so many features this app is more than a simple SMS organizer. The app is visually pleasing to look at and works like a charm. You will never look back at your default SMS app after you use this.