Slate – An Education App for Students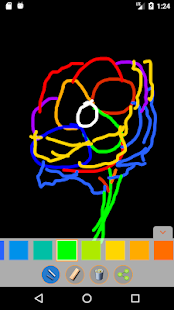 Education is something that people hold very dear nowadays. With the increasing population and completion as a result people need to be on top of their game if they want to succeed in today's world. With the advent of the internet era people are turning to their cellular devices to facilitate their learning. Many apps like Byjus in India are making a killing out of selling their services over smartphones.
Slate is an app for students and for people who love to be creative in their free time or for time pass activities. This application contains no ads and can be used without any hassle.
Slate is a simple app that can be used by students to engage in basic learning exercises like writing alphabets and/or numbers or can also draw too by creating simple drawings. As of now, this app has very basic and simple features that allow you to create simplistic writing and drawings. But in the future, the app will be developed to evolve and will be providing you complete tools for creating fun drawings that can produce an enhanced result.
Some of the basic features of the Slate application are:
* This app removes the necessity of a physical slate board and can be worked on at any point at your place of convenience.
* The Slate app is best suited for students who are trying to learn to write and draw alphabets and numbers on page using pencil or on a slate with chalk.
* This app is highly portable, and it does not require any addition physical space but can act as a real-world Slate board making it accessible at any point while your creative juices flow.
* This app can help you to save papers as anyone can draw and delete things that they do in a paper using pencil thus contributing saving the environment.
* The app also allows you to be able to draw emojis or any shape or greetings to share with anyone thus enabling you to share your simple creativity with your dear and near ones.
The Slate app is totally free and does not include any ads and even in the future it will remain the same way.
The app also has a new added feature wherein you can now select your favorite color to create more creative drawings.