Mirror – An App to get Personal Face Stickers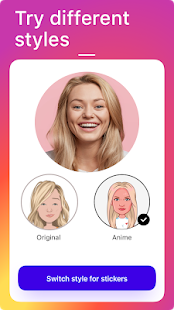 There are plenty of apps out there that allow you to edit the pictures that you take. Many of them are pretty well made and are easy to operate. Mirror is an app that allows you to create stickers and much more. With this app you are able to create funny memes, personalized avatars and emojis for Android. Mirror even gives you a personalized emoji keyboard. Mirror also helps you to create amazing looking avatars for your phone. You can use smart emojis and send your stories to every social network, chat and messenger. Facial recognition – With just one picture Mirror easily creates a personalized avatar that looks almost as good as the real thing.
Some of the amazing features of the app are :-
Custom roulette wheel – This allows the user to randomize decision. With the roulette wheel you can leave it up to luck. This is fun way to decide boring choices. Confused on whether to eat Chinese or Thai, let the roulette wheel decide it for you. Users can put anything they want on the decide wheel and check unique roulette picks. Spin The Wheel and Decide Wheel give you an ultimate decision making fortune wheel. Wheels of fortune is cute and personal, every easy decision shows you options with a cartoon face. It's better than just a coin flip. Users can create and save custom Decision Roulette and use them whenever they want. This avoids creating repetitive challenges and games, now the users can use the already saved Decision Roulettes and avoid writing the entire thing again.
Epic avatars – Users can create and customize their own personal avatars. Bring out your own designs and create a truly unique identity online. The custom avatar will surely make you stand out from the crowd. You can also use mirror to create your own personalized stickers and emojis. You can entertain you friends with these amazing emojis and gifs. You can also inset the avatar you created into different photos just to give it a unique spin.
Share your avatars – you can use the avatars and cutoms gifs in all the popular messenger apps like Whatsapp, Facebook, Facebook Messenger, Instagram, Instagram Stories, Snapchat, Telegram or Twitter.
Over all this app is really fun to use and will make texting a bit more entertaining.