Bitdefender Mobile Security – A Mobile App for Security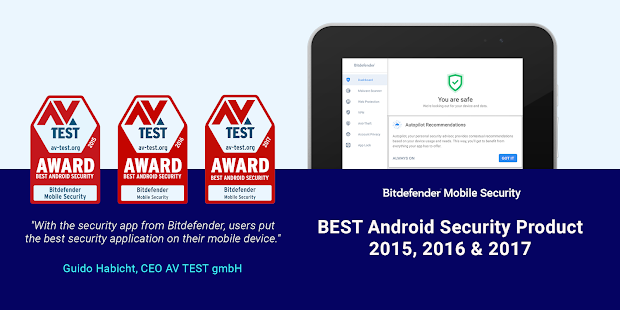 In this day and time we can agree that one of the most important things in our life is our mobile phone. We use this devise for almost everything, paying bills, booking tickets, ordering food, finding transportation and many other things. This also means that we store almost all our information into these small gadgets. We don't think twice before entering our bank information to make an online purchase. This is in fact very risky. As the number of uses for mobile phones increase people have found ways to exploit this system for their own personal gains. Such hackers target mobile phone users to steal their personal information and leave them penniless.
Bitdefender Mobile Security is the best android security product and is consistently rated as the top android security product for 2015, 2016 and 2017 according to AV-TEST. Bitdefender claims to be the most progressive cyber security application for Android which gives you the outright security against infections and malware.
Unlike other security software's in the market, Bitdefender provides an array of features to keep your device and data protected all around including autopilot providing you with insights and security recommendations, with its 100% detection rate independent malware scanner which always keeps itself up to date and keeping your device secure as you install apps, VPN to surf web anonymously which also provides you with 200 mb traffic/ day for free, Upgrade to premium VPN which also enables you to get unlimited traffic and using various locations including United States, United Kingdom. Keep a tab on your email protection with just a click using Account privacy feature, An App lock to secure your most sensitive apps with a pin code. With Bitdefender's trusted engine, now you can browse the web keeping away millions of malicious contents aside and surfing the web with utmost protection with its web protection.
Smart features now built within the app like fingerprint sensor support help you to unlock your apps with your fingers, snap photo feature snaps a mug shot of the person in case multiple incorrect attempts are made to unlock your device. Smart Unlock that helps you directly access your device while you are near your trusted Wi-fi source and PIN Timeout feature that sets 30 seconds timeout after 5 incorrect attempts to access your apps.
In case your phone gets lost or stolen, you can lock and track your phone using the Anti-theft feature which also provides you with the option to wipe your sensitive data when required. Bitdefender also supports Android wear devices now, keeping your smart watch safe and secure with its alert and scream feature