Video Compressor Panda – An App to Resize & Compress Video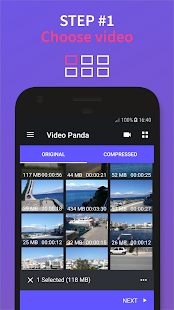 We as human beings love efficiency. Anything that can do a lot with minimum effort is something that we always look for. That is partly why smartphones became so successful and widely used these days. The fact that you can treat you smartphone as a personal computer makes it a versatile device. To get the maximum utility out of these small devices we install multiple apps and update them constantly.
Panda Video Compressor will make your video smaller in fast, easy, fun way and you will be surprised by the final video quality. This compression video tool will allow you to send videos even in e-mail.
If you struggle to send video via email, text or share and upload videos to social media channels Instagram, Facebook, Youtube, Whatsapp, WeChat, Viber, Line, Telegram, VKontakte, and KakaoTalk or if your phone is out of space, tis app is best suited to resolve these issues. Video compression offered by Panda video size reducer is 10 times faster than in previous versions.
With the Panda video compressor, you can send compressed video via email and text; upload/share your videos to social media channels (Instagram, Facebook, Youtube, Whatsapp, WeChat, Viber, Line, Telegram, VKontakte, and KakaoTalk); save space on your phone, tablet and in the cloud; reduce mobile data usage and much more.
The app supports video formats in mp4, avi, mkv, flv, rmvb, 3gp, mpeg, wmv and mov. Big video files are a huge problem for every mobile user, who wants to share and upload videos. This video compression app will help you compress video files to send via email by using the option "Fit to email". Email inboxes are often limited and there is a large need for resizing videos. Panda Video Compressor compresses and reduces videos down to the exact size (MB) you want without affecting the quality of video.
With the option of using the Panda video resizer, you will no longer need to delete your favorite videos, apps to free up space. Panda Video Resizer will reduce the size of your videos, so that your smartphone or memory card will not keep running out of space.
If your data is limited, and you can't afford a better data pack you will still be able to compress video so easily. You can simply reduce the size of the video file size without losing quality.