Pratilipi- App for Free Stories, Audio stories and Books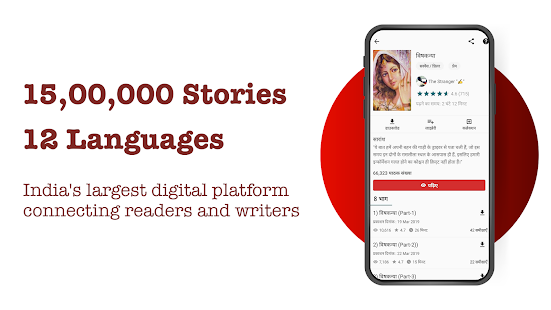 Stories are something that shape our lives. From where we were small enough to understand words we have been told stories of epics and morals. These in turn change the way we look at things and teaches us about experiences of different people. It allows us to walk in the shoes of the writer. Stories also teach us the way humans communicate, hence it also affects the way we can communicate. Stories told in English improves our grasp on the English language, it has the same effect with different languages. If the story was told in French and we would know a little better of the French language.
When we are little most of the stories were told to us by our family and teachers rather than reading them on our own. Later in life when we expand our mind and perception we are able to read and digest increasingly complex issues and situations. Reading can invoke several emotions in a person all the way from pure rage towards a particular character to unconditional love.
Pratilipi is an amazing app that lets the user read and enjoy millions of stories, books, poems, articles, magazines, novels, essays in their smartphones anywhere and at any time. With this nifty app users can read whenever they aren't doing anything or waiting for something. Waiting for a train in the subway? Open the app and find something interesting to read. You can read literature of writers in 12 Indian languages.
Some of the great features of the app are
Read Anywhere. Anytime. – if you can find time to read then you can read. The time and place doesn't matter with this app. With millions of readable content and audio books users can even save book to read it offline. So even if you are in a place of no connectivity you can whip out your smartphone and start reading away.
Write. Share your story. Reach millions of readers – Users can turn from avid readers to writers this app. Publish your stories and share them. Pratilipi provides a hassle free and advanced writer panel to make your act of writing a little less scary and a whole lot comforting.
Connect and you are never alone- you can share all your content and ideas on this platform to make a name for yourself as a writer. If people like your stories you will see a steady increase in your popularity in this app and many will consider you a genuine writer.
This is a great app for readers and writers alike. With a lot of customization option and a smooth interface it's a must have.