Improve English – Best App to Learn English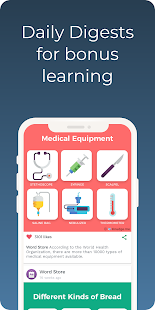 This application made it into the Google's Editors' Choice list and is free. It also allows you to rediscover a fun, easy and interesting way to improve your English as well as to practice Math. There are various courses that are based on English vocabulary, grammar, English idioms, English phrasal verbs, Math tips and tricks, ratio and proportion, progression, averages, percentages and many others. This application works on scientific algorithms specially designed to help you learn and improve your English as well as practice Math in a much easier manner.
The course highlights are:
Vocabulary Builder – The vocabulary builder has three levels. The easy level allows you to learn the simple and most commonly used English words. Using handy flashcards also help in making this a truly enjoyable way of memorizing and improving your vocabulary. The intermediate level includes a must-learn wordlist and contains 200 plus words to improve your English vocabulary. Learning and grasping these words can help you tackle competitive exams and help you in achieving good scores in exams like CAT, GRE, GMAT, IELTS and TOEFL. The advanced level includes a more comprehensive list of words which helps you acquire an extensive English vocabulary and a high command over the language. As with the intermediate level, the possession of an advanced level of vocabulary would help tackle the competitive entrance exams with better scores.
English Idioms – In this course, you would be introduced to the most commonly used 250 English idioms. This will help you keep up in everyday conversations.
Phrasal Verbs – Completing this course will help you understand the frequently used phrasal verbs and it can also help in excelling the competitive exams like XAT and NMAT.
Commonly Confused Words – This section covers homonyms and homophones, which are words that sound alike but have different meanings. This will help you in avoiding the most commonly seen mistakes made in the English language.
This application also has games to help you learn better as well as to provide a fun learning experience. In the games section, you have many vocabulary games, reading games and writing games. One such game is "Echo" which is a unique dictation game where you have to write down words that are spoken aloud. It mainly helps you improve your spelling.
The application also has other important features like spaced learning and adaptive learning to boost your brain to learn and retain lessons better, vocabulary pronunciations, tests that match your skill level, progress tracking and flashcards.