Click To Open- A tool App for WhatsApp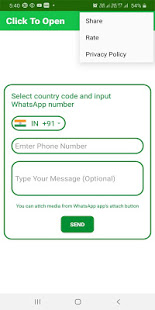 One thing that all of us use our smartphones for is communicating with each other. This is pretty much the core use of the smartphone. With time the ways in which people communicate have gradually changed. People are now in an era where they use images and videos to get their message through to others. Many applications have tried to fulfil this need, but none have come close to the standards set by WhatsApp. WhatsApp is a simple messenger that allows its users to communicate in any and all ways.
This is in no way exaggerated, WhatsApp literally allows its users to communicate among each other in every perceivable way, feel like sending a GIF or an audio file to cheer someone up? WhatsApp has your back. WhatsApp has made sending multimedia files simple and fast, users can send whatever they want with ease and for free. As you know our WhatsApp's have become pretty clunky and full of message. I'm sure most of us are in various groups and have hundreds of contacts in WhatsApp this makes managing all of this a very hectic job. Click To Open is the perfect WhatsApp tool that gives its users options to communicate with unsaved numbers from all over the world. WhatsApp users can have a much better experience with the already famous WhatsApp messenger. Some of the key features of the app are: –
Enter a phone number and open chat directly – You don't need to have the number saved. You can just open the chat window and type away without any repercussions.
Country code detected automatically – WhatsApp is used in 109 counties. This is more than 50% of the world. Any numbers country code is detected, and you can easily identify where the call is coming from.
Option to change Country Code (select country list available)- you can also change the country code before. This can make you anonymous if you really want to hide your country of origin
Easy and clean interface -this app is extremely easy to use and has a smooth interface. Anyone can use this easily and effectively without facing any issues.
Overall this is a great little app to have along with your WhatsApp messenger. This app brings out the true potential of WhatsApp and will display the range of its functions. It is fairly easy to use, and users will get accustomed to it easily.