Quora- Android App for Learning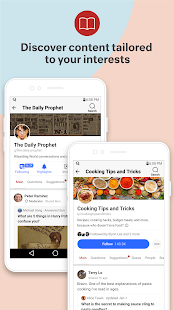 Quora is education and knowledge-based social app that allows people to share their intellect with others. The app allows people to get their queries solved by others and also provides a platform to share their knowledge power with others. The app is not restricted to particular subjects, rather people can discuss any topic related to any subject on it.
Pros of the Application
The Quora is a Question & Answer based social app that allows the sharing of knowledge worldwide through a single platform with real people answering the queries.
Users can ask questions related to any subject or topic and get their queries solved by real people. The app is totally free of cost, so there is no need to pay large sums of money on academic apps for solving the concepts.
Users can also follow different topics or topics related to their subjects to get quality content about them and excel in their respective fields.
Users can also share their valuable knowledge and experience with others using this online platform. Users can also attach supporting photos and videos with their answers to make a strong opinion and highlight them.
The app includes 'Feed' tab to provide instant quality material for the users related to their queries and subject.
There are a separate tab, 'Bookmarks' for saving valuable opinions from others for later use.
Users can also share Q&A with others using different social apps like Facebook, Twitter etc.
The app is totally free of cost, so anybody can use it from anywhere in the world.
Download Application From Here
Features
Quora knowledge-based platform that provides answers to the queries of its users. At the first start of the app, the user needs to sign up for submitting his/her questions. Users can sign up using Facebook, Google or any Email to join the platform. The main interface of the Quora app has different categories like;
Feed
New Answers
Bookmarks
Ask option
Search Tab
Users can submit their queries via the 'Ask' button and get their answers about those queries in the 'New Answers' tab. There are many topics related to the subject in the 'Feed' tab.