Habit Tracker- Android App to Track Habits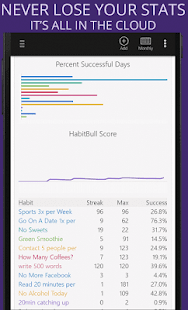 Habit Tracker is a lifestyle app that allows users to keep track of their day-long habits and routines. The app allows users to track and record their own activity from day to day to keep themselves according to plan and help to achieve their goals. The app keeps a log of the goals and habits of the user and notifies about daily tasks.
Pros of the Application
Habit Tracker is a multi-platform companion to track and record the user's activity round the clock and organize their life patterns.
Habit Tracker is a customer-oriented app that allows users to modify their plans and keep a record of their habits and goals.
Habit Tracker keeps the user up to date with notifications that remind themselves of their important tasks and goals of the day.
The helps users to cut out their bad habits like smoking, drinking or nail biting etc. The tracks the habits of the user and show the pattern of them, that makes it easier to curb that pattern out.
In the same way, the app also helps users to add good habits and healthy measures in daily routine. Habit Tracker notifies users about the exact time to go for them.
Habit Tracker boost up the person's ambitions whether these are starting reading a book, stop smoking, start working, planning a journey by giving alerts time to time.
The app has many features that increase the appetite for goals like streak counter, percentage successful in the goals, graphs with success percentage versus actual targets, motivational prompts and many more.
The app has multiple themes for optimal usage.
The app also supports cloud backup and multiple device synchronizations for a better experience.
Download Application From Here
Features
The Habit Tracker is a powerful tracker app that not only keeps a record of user activity but also allows users to achieve their goals and cut out bad habits from their daily routine. The app is also added in 'Editor's Choice' list that makes it a trusted source. At the first start of the app, the user can either sign up or can just use it unregistered. The main interface has 'Add Habit' options to assign new goals or tasks that are further categorized;
Fitness
Diet & Food
Study
Personal Hygiene
Reading
Time Management
Meditation
Medication etc
Users can track streak percentage and goals success by using 'Home' option on the top left corner. Users can buy the premium version for the ultimate features of the app.