Uninstaller – An App to Delete Unwanted Apps from Phone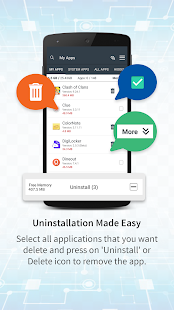 Uninstaller – My App Cleaner is an application categorized under "Tools" in the Google play store. This application is developed by MobileBrain App Studio and has content applicable to individuals aged three and above. It is compatible with Android version 4.1 and above and was last updated on November 03, 2017. The current version of the application is 1.4 and the size of the application is 9.3 MB. The application does contain ads. It is available in Google Play and does not offer any in-app purchases. This application has more than 100,000 installs and has been reviewed by more than 1200 users giving it a 4.2 rating in the Google Play Store.
One of the most important features of a smartphone is its storage capability. With newer phones boasting storage sized of 64 and 124 GB the amount of data stored in smartphones is ever increasing. Without properly managing the data through backs ups and cleanups a smartphone can soon become unresponsive and slow. Categorizing and segregating data according to its use is difficult when the user has increased amount of data to work with.
Uninstaller – My App Cleaner application is an easy, reliable and a handy device cleaner and uninstaller tool for your android phone. You can free up storage by deleting apps, duplicate file, junk data, cleaning the RAM and unused APK files.
Safe Uninstaller is tool for deletion of unused applications to get more space available on your device. It allows multiple app deletion on single button click.
The additional details of application size such as code, cache and data will help you decide on uninstallation. You can also re-install deleted apps from the recycle bin. 'Scan unused APK' will search APK's all over your phone and memory card. You can choose to delete the APK files. Recycle bin will store all deleted apps for a quicker installation again without any need to download from the Google Play store.
Some of the features this application offers are : it cleans the junk files on your device, it removes any duplicate files thus clearing up more space on your device; it helps in removing WhatsApp received files; it provides a recycle bin that allows you to reinstall deleted apps at a later point if you feel like you want your deleted item back; it has an app history that you can view if you need to reinstall any deleted apps; you can scan your device memory to remove any unused APK files, user installed and system apps; you can search installed apps and system apps; you can sort by large-small size, name and latest installation time; you can perform multiple or single app removal with confirmation; it suggests the venerability of apps on your device; you can open apps or review any app on play store; it also has a night mode view; you can delete the app in phone memory and you can uninstall apps, remove apps and delete apps.