Hotstar – Best App to Watch Movies, Serials & TV Shows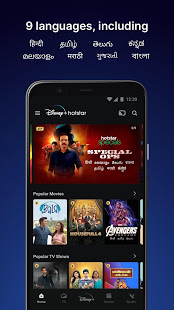 Movies and TV shows are something that is watched by all. It is a source of entertainment and induces a variety of emotions for the viewer. It is also something that is time consuming. Everyone has different preferences and taste in movies. Some maybe horror movie fans while some maybe action movie fans. The enjoyment derived from movies varies from person to person. It is the responsibility of the viewer to analyse the movie through its trailers and synopsis before actually watching it. With almost everyone having access to the internet people are able to stream movies easily now. Companies like amazon and Netflix have capitalized on this trend in a huge way making streaming services available to us for cheap prices.  But most oftheir shows are catered towards a western audience. We Indians need our special brand of masala to satisfy our needs. This is where Hotstar comes into play. Also Hotstar is completely free.
With Hotstar users can watch Thousands of hours of some of the most popular Indian Movies, Star TV Shows, Previews & Highlights of cricket and other sports, and the latest News. There is also a subscription service available in the app by subscribing to Disney+ Hotstar VIP users can get Disney+ shows and movies in dubbed vernacular languages, unrestricted access to live sports (like VIVO IPL, Premier League, Formula 1 and Tennis), latest Star TV serials before they premiere on TV, latest Bollywood movies and exclusive library of shows produced as Hotstar Specials.
With hotstar users can get access to
All major sport channels – you will never have to miss one second of sports action even when you travel.
Hundreds of Hollywood and Bollywood movies – most of the movies have the option to change the audio so the user can enjoy movies from various parts of the world.
Bing watch epic shows – You can bing watch old and new shows for free.
Live news – You can get instant access to news channels from all over India and the world. This will help you stay updated and informed all the time.
Kids content – Best of the world of Animation including Frozen II, Aladdin, Toy Story 4, Lion King and shows such as Mickey Mouse Clubhouse, Art Attack, and more. You can further use kids mode so that kids will only be able to see programs meant for their age.
Overall this is an amazing app to have. It works really well with low internet speeds also so you will never have a problem with buffering. You can also set the quality of the video according to your data plan.