Malayala Pachakam -Android App To Cook Kerala Foods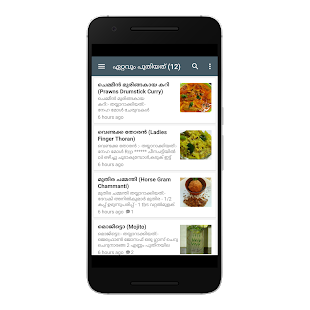 Malayala Pachakam is in the 'Food and Drink' section of Google Play Store. The developer has rated the app content applicable to user aged 3+. The app can be obtained for free from the Google Play. There are no in-app purchases; however, the app does contain ads. The app requires Android version 4.0 and up in order to work. The last update for this up was done on January 20, 21017. The current version is v.1.5U
No matter how advanced and high tech the world gets, everyone loves good quality food which tastes just like what their mothers used to make. Be it simple scrambled eggs or an exquisite steak tartar, all of us want everything to taste divine and be a treat for our taste buds. Some of us are studying abroad or in another city and have to make our own food, some of us live alone and some of us are mothers and fathers who want to make delicious food for our families to indulge in and enjoy. However, most of us do not have the patience to buy a cookbook and look for the recipe skipping through pages and in the end, ruining the book with our dirty hands while cooking and also ruining our dish.
Malayala Pachakam allows us to view online written recipes along with videos featuring step by step guide of the recipe making it even easier.
Name of the developer/Company/Application Size/Number of Review and rating /Total Downloads
Malayala Pachakam is offered by WebReflex Technologies. The app has a size of 9.10 MB. After being reviewed by 1,076 total users, the application got an average rating of 4.3 out of 5. The app has been installed by one hundred thousand people since its release.
Pros of the App
The app is easy and fairly simple to use and contains everything in one place.
It allows you to add your own recipe to the app as well if you are a cooking enthusiast.
The server recipe syncing speed is high so you will not need to wait.
The app has been optimized for better user experience making it more enjoyable.
The app has global CDN for faster content delivery.
Cons of the App
The app requires internet connection to work at all times.
Sometimes the recipes will not load if you have slow or no internet.
Some of the recipes are difficult to follow.
The app contains ad which can be very annoying at times.
Features
Malayala Pachakam is an app which is owned by WebReflex Technologies. The app is offers cooking recipes for everyone regardless of their location. It provides the users with delicious recipes which are made from love. After all, the way to one's heart is through their stomach. Some of the features of the app include
The app has a wide range of cooking recipes.
The app has a huge variety of cooking videos.
The app allows you to request your desired recipe as well so that it can be added to the list.
The app allows you to watch Facebook live streams of cooking videos along with much more.