Emoji Letter Maker- Android App to create emoji Letter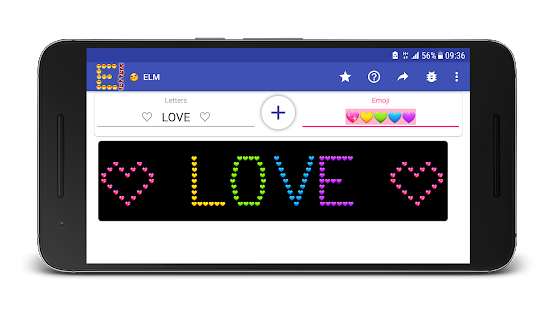 Emoji Letter Maker is in the 'Art and Design' section of Google Play Store. The developer has rated the app content applicable to user aged 3+. The app can be obtained for free from the Google Play. There are no in-app purchases; however, the app does contain ads. The app requires Android version 4.2 and up in order to work. The last update for this up was done on January 26, 2018. The current version is v.3.0
All of us want to relevant and be cool today. Sending messages without emoticons is considered to be boring and less interesting. A simple way to grab someone's attention without having to do much is to add interesting emoticons to make the text more aesthetically pleasing. It is always better to make a striking impression on someone you like and what better way to use emoticons when you can send roses to their doorsteps? Chivalry is not dead and all you have to do is customize your own text with roses and hearts and you are good to go. But how do you do that?
Emoji Letter Maker does that. It solves your entire problem as it provides wide varieties of emoticons and now through the app, you can also spell words out using emoticons. How cool is that?
Emoji letter Maker is offered by Elad Finish. The app has a size of 3.83 MB. After being reviewed by 3,981 total users, the application got an average rating of 4.4 out of 5. The app has been installed by 5 hundred thousand people since its release.
Pros of the app
Easy and fun to use.
You can invert your customized text horizontally through the floating menu.
You can sketch your customized text through the sketch editor app.
You can add the flags of your favorite countries as well.
The app has all your favorite emoticons.
Cons of the app
When you share the customized text, most of the times the order of emojis get disrupted.
Most of the times, the emoticons do not align in the correct order you want them to.
You might have a tough time saving your customized text.
Features
Emoji Letter maker is the best app in town and it makes sure you keep up with the trends with each passing season. After all, no one likes to be boring these days. This app is quirky, fun and easy to use and some of it features are-
The app allows you customize your text to your own desire in order for you to have the best experience.
The best thing is that this app gives freedom to copy the emojis. Once copied to clipboard, you can later use them to paste in different apps.
The customizable text and emojis are easy to share with your friends and family.
The app allows you to become a free beta user to obtain its new feature before everyone else.