Data Recharge and Data Saver -Android App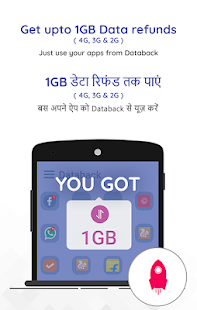 The Google Play Store classifies this application in the Lifestyle category of apps. The app content is designed to be fit for age 3+. Its device compatibility requirements are Android OS 4.1 and up. The app's latest version is 4.0.0.75 which was updated September 10, 2020. The app can be installed for free and there are no in-app purchases as well.
Higher the speed of internet, higher the data consumption. This simple rule is the reason why you might be ending up using a lot of your data while just using Facebook. But that doesn't mean that we can give up the speed to save data consumption. We need a solution where we get optimum speed with the least data consumption.
Data Recharge & Data Saver is the app that does this. It mainly does two tasks:
It helps you optimise the data consumption on your device.
It allows you to recharge your data packet with the saved data.
Developer Name/Developer Company/Android App Size/Rating /Number of Downloads
Data Recharge and Data Server app is developed by Databack. Its Android app size is 11 MB. The ratings of 288,391 users give it an average of 4.2/5 stars. Around 10,000,000+ users have downloaded this application from the Google Play Store.
Pros of the Application
The app can optimise your data consumption by up to 20%. The developers claim that you can save around 500 MB mobile data every single month.
The app also comes with a Data monitor. This is a real-time data monitor. You can monitor the data consumption by each app in real-time using this application.
It even works in offline mode. Thus, you can use it even if you don't have access to internet connectivity.
The app provides free data recharge packs from the data that you save. You can use these packs to recharge the data packet on your card for free.
This app provides a 'refer and earn' program. Herein, you can earn 50 MB mobile data for every successful referral.
You can even use the Speed Test feature of this app to check how much speed your internet connection is actually providing.
The app even comes with an inbuilt speed booster. This speed booster can optimise the speed of your device.
It gives important data shortcuts like Change network (2g/3g/4g), Data settings, Phone booster, and etc. all at one place. Thus, you don't need to switch tabs again and again.
Cons of the Application
The app has received quite a lot of complaints and negative feedbacks from many users. Some of the most common ones of them are:
Many users have complained that the app does absolutely nothing to save their data.
Quite a few users are either not able to register a new account or are not able to log-in with their existing accounts.
After the recent update, many users are finding a lot of bugs and glitches in the app due to which it isn't functioning properly.
Function
The concept of the app is quite good. The idea of integrating data saver, speed tester, data monitor, and speed booster all in one app is the stand out point of Databack. The graphics, animations and the entire user interface is neatly designed and is completely responsive as well. The only issue is that the app is really buggy. Due to these bugs and glitches, the users are either not able to access the app content at all or they aren't able to use all the features available.